News
Please click on each item below to view the required inoculations and booster shots information regarding students in the Jefferson County North School District. Jefferson County Health...
U.S.D. 339 will have three board member positions up for election in 2021. They are Position No. 4, Sharon Porter; Position 5, Justin Finley; Position 6, JimBodenheimer. The filing deadline is...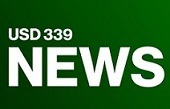 The Board of Education at their Monday, April 12, 2021 meeting, approved the 2021-22 school calendar. Click here to view the calendar at a glance.
SEE ALL NEWS